- AliceOnLine -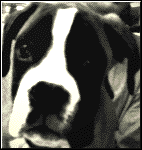 Pet Of The Year
Meet alice, my dog.
In the picture, she is a 0.375 years old (4.5 months) boxer growing fast.
She creates disasters every time she moves but when YOU want to play, she falls asleep!
Wouldn't you like to squeeze her?
---
OK, we can go now...
---
Last updated 3/22/97
Page authored by F. Munaf&ograve, &copy all rights reserved.